How to find work in marketing
Marketing is a term used to describe everything that happens between the company, its product, and the end-user. Research, budget planning, designing social media campaigns and strategies, as well as networking with potential business partners, are all examples of what a marketing professional can do.
For those looking for work in marketing, there are many ways to go about finding that perfect job. Of course, the most important step is to gain an understanding of which part of the marketing industry you would like to work in, and why you would be good at that particular subfield.
There are many different skills that a successful marketing professional should possess. Communication skills are of paramount importance, as the person in marketing is essentially the voice of the company. People in marketing must be creative and enjoy working with teams of other creative people. They have to be self-motivated and driven to succeed, be good with stress management and the meeting of deadlines, and demonstrate necessary skills when it comes to selling ideas.
Understanding the different types of marketing jobs that exist is probably a good next step, once you have concluded that you have the appropriate skillset for the field. Jobs in marketing range from analytics to event management to advertisement to public relations, to name a few. Each of these subfields of the marketing industry come with their own set of required skill and talent. Some may require more of a business-oriented mind, while others are more ideally suited to people who are artistically inclined. Finding the right fit is imperative.
The importance of presentation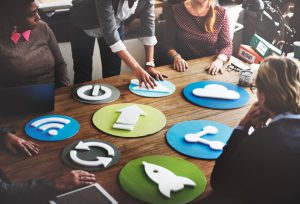 To find a job in marketing, there are a huge number of things to consider, both on a professional level and a personal one. Contacting employment agencies or companies directly are both viable options. However, if you choose to contact a company without the help of an employment service, you must be cautious about how you present yourself to the company. The job itself is all about sales, presentation, and image, which means that the company you approach will be looking for all of those qualities in you.
There are ways to get help with building the necessary skillset in order to land that perfect job. Attending courses on findcourses.co.uk, for example, aimed directly at the desired skill is the most efficient way to gain the knowledge that is needed.
Related Posts